---
Media Release
February 23, 2022
Kristi Brown
Stewardship Director
Ph: (319) 862-1100
kbrown@jaeasterniowa.org
@JAEasternIowa


---
BUILDING FUTURES – INSPIRING TOMORROW THROUGH YOUTH ECONOMIC EDUCATION GREENSTATE CREDIT UNION TO SPONSOR JUNIOR ACHIEVEMENT PROGRAMS
CEDAR RAPIDS, IOWA— Junior Achievement of Eastern Iowa is proud to announce GreenState Credit Union will support programs for 689 students throughout Eastern Iowa. The renewal of the partnership between Junior Achievement and GreenState Credit Union will afford students to gain essential financial literacy and career readiness skills needed in a changing economic landscape.
"GreenState is thrilled about the continued partnership with Junior Achievement of Eastern Iowa, as financial health is a primary focus for both of our organizations. With the help of JA, children across the region can become confident in themselves as they find and prepare for a career that will give them purpose," states Tara Wachendorf, VP/Public Relations Director at GreenState.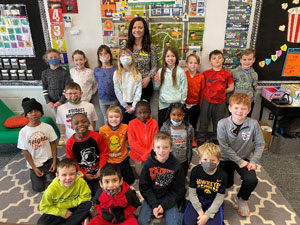 Since 2016, Junior Achievement of Eastern Iowa and GreenState Credit Union have been collaborating to provide kindergarten through 12th grade students in Eastern Iowa with experiential learning programs.
Through participation, students learn:
How to earn money
About the importance of budgeting
How to build credit
The importance of saving and investing
About new careers and how to make them a reality
How the career they choose will directly impact their personal finances
As part of the push to innovate and fulfill Junior Achievement's mission in a rapidly changing education landscape, Junior Achievement has developed a pathway for each pillar (Financial Literacy, Entrepreneurship, and Work and Career Readiness). The JA Pathways model provides a well-defined set of progressive learning experiences and offers students the opportunity to immediately practice what they are learning.
The experiences focus on individual needs for exploration and will enable JA students to master key competencies to become financially capable, work ready, and entrepreneurially minded. Junior Achievement is taking strides now to equip the next generation with the tools and know-how for success in school and beyond.
"GreenState Credit Union does it again! We are extremely proud to partner with such a respected financial institution to break the cycle of a financially illiterate and underprepared generation," said Christine Landa, President of Junior Achievement of Eastern Iowa. "Not only does GreenState Credit Union demonstrate their commitment to our local youth through their leadership on our board of directors, but they also serve as classroom mentors providing insightful lessons on money management and career readiness skills that will bring real change to our local communities. We look forward to continuing our partnership with GreenState Credit Union well into the future so that Eastern Iowa students can achieve their potential."
Students share what they have learned from their JA Our City® experience:
"I learned about interest and how taxes are used to pay for government workers." - Alyssa
"I learned about how credit cards and debit cards worked, and about different money words and I learned about taxes and how interest worked," – Mason
About Junior Achievement of Eastern Iowa (JAEI)
Junior Achievement of Eastern Iowa is dedicated to inspiring and preparing young people to succeed in the global economy through work readiness, entrepreneurship, and financial literacy educational programs. JAEI's programs are delivered by 1,295 local volunteers that can provide students with real-world examples of how obstacles can be overcome and success achieved. JAEI provides its programs to 33,545 students throughout Eastern Iowa which includes Benton, Black Hawk, Bremer, Buchanan, Delaware, Grundy, Iowa, Johnson, Jones, and Linn counties. For more information, visit www.JAEasternIowa.org.
About GreenState Credit Union
GreenState Credit Union is Iowa's largest credit union and one of the top financial institutions in the United States for returning profits to members in the form of better rates and lower fees. GreenState serves over 350,000 members with 30 office locations. Membership is open to anyone living or working in Iowa as well as select counties in Illinois, Wisconsin, Nebraska, and South Dakota.